NodeJS Framework Services
Node.JS Framework
Development Services
As a leading Node.js web and mobile application development company, ASHTECH Technologies is at the forefront of providing cutting-edge solutions. JavaScript-based solutions are unparalleled when it comes to platform-independent tools for web application development, and our expertise in Node.js sets us apart. We are committed to driving growth and productivity through this powerful technology, empowering your business for sustainable success.
ASHTECH Technologies is a leading Node.js web and mobile application development company, dedicated to delivering exceptional solutions that drive your business forward. With our expertise in Node.js, we harness the power of this cutting-edge technology to create robust, scalable, and high-performing applications that meet your unique requirements.
What Makes Our Node.JS Services Stand-out?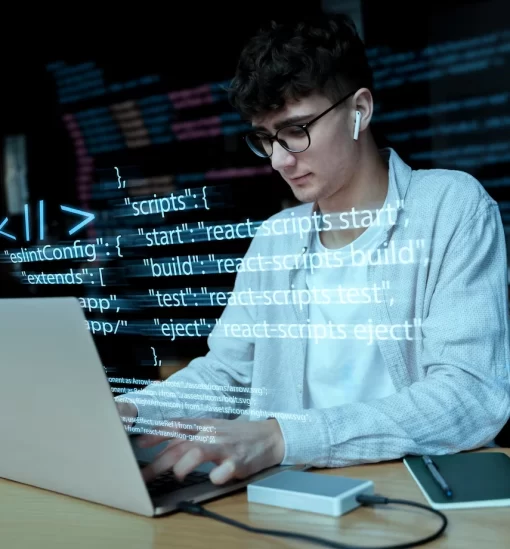 As a leading Node.js web and mobile application development company Chandigarh, ASHTECH Technologies is at the forefront of providing cutting-edge solutions. JavaScript-based solutions are unparalleled when it comes to platform-independent tools for web application development, and our expertise in Node.js sets us apart. We are committed to driving growth and productivity through this powerful technology, empowering your business for sustainable success.
Why Choose ASHTECH for Node.js Development:
Expertise and Specialization: With our in-depth knowledge and specialization in Node.js, we possess the skills to deliver exceptional web and mobile applications. Our developers leverage the full potential of Node.js to create high-performance, scalable, and feature-rich solutions.

Platform Independence: Node.js allows for seamless development across multiple platforms, eliminating compatibility issues. This ensures your applications can reach a wider audience, regardless of the devices or operating systems they use.

Architecture for Growth: Node.js provides a robust architecture that supports growth and scalability. We leverage this architecture to build flexible and expandable applications, enabling your business to adapt to evolving market demands and handle increased user traffic.

Enhanced Resource Utilization: With Node.js, we can optimize resource utilization, ensuring your applications are efficient and performant. This translates to faster response times, reduced server load, and improved user experiences.

Sustainable Business Solutions: Our goal is to provide sustainable solutions that drive long-term success for your business. By harnessing the power of Node.js, we create reliable applications that can withstand the test of time and adapt to changing business needs.
Unlock the Benefits of Node.js Framework for Web Development
At ASHTECH Technologies, we pride ourselves on delivering exceptional Node.js development services that bring a range of benefits to our clients. Here's why partnering with us is the right choice:
Seamless Data Exchange: With over a decade of experience and a team of qualified and talented engineers, we excel at creating solutions that facilitate seamless data exchange. Our expertise ensures efficient communication and integration of data across your applications, enhancing overall performance and productivity.

Cost-Effective Solutions: We understand the importance of cost-effectiveness in today's competitive landscape. By thoroughly understanding your requirements, we strive to offer you the most cost-effective solutions. We eliminate unnecessary expenses while delivering high-quality outcomes that align with your budgetary constraints.

Customer Satisfaction: Customer satisfaction is at the core of our services. We prioritize utilizing the latest frameworks and technologies to create user-friendly, secure, and robust solutions. By delivering exceptional products that meet and exceed your expectations, we aim to ensure your utmost satisfaction.

Flexible Engagement Models: We believe in flexibility and tailor our engagement models to suit your unique needs. We understand that every project is different, and we adapt our approach accordingly. Our flexible engagement models allow for seamless collaboration, effective communication, and successful project outcomes.
Comprehensive Node.js Development Services Tailored to Your Business Needs
At our core, we have a team of expert and talented Node.js developers who are committed to delivering optimal solutions that align with your unique requirements. Explore our range of Node.js development services:
Node.js Web Development: Leverage the power of the Node.js development framework to simplify the web development process. With our expertise, we build fast and secure websites that meet your specific needs. Partner with us and unlock the potential of web applications built on Node.js.
Node.js Mobile Development: Choose Node.js for your mobile app development and experience the benefits of robustness and scalability. Our team utilizes Node.js to create real-time mobile applications that enhance user experiences and drive business growth.
API and Migration: If your existing solution no longer meets your needs, we can help you migrate to Node.js seamlessly. Our skilled Node.js developers assist with migrating your software, ensuring a smooth transition and addressing all your requirements.
Support and Maintenance: As a leading Node.js development company, we provide comprehensive support and maintenance services. We keep your mobile apps and web apps up-to-date, responsive, and aligned with your evolving needs. Our team ensures optimal performance and resolves any issues promptly.
Front and Back-end Development: Using the latest frameworks, including MEAN and Node.js, we enhance the functionality of both the front-end and back-end applications. Our developers employ industry best practices to deliver seamless integration and exceptional user experiences.
Node.js Consultation Services: We offer consultation services to assist you in choosing the right technology and resolving your business challenges. Our robust strategies and planning help drive your business forward, ensuring optimal results and success.
Why Choose ASHTECH Technologies For Node.js
Development Services?

Our experienced and skilled development team specializes in Node.js, ensuring that your projects are handled by professionals who understand the intricacies of the framework. We stay updated with the latest trends and best practices in Node.js development to deliver top-notch solutions.

Cross-Platform Compatibility:
Node.js offers seamless cross-platform development, allowing us to create applications that run smoothly on various devices and operating systems. Whether it's web, mobile, or both, we ensure your applications reach a wide range of users, maximizing your business potential.

Scalable and Performant Applications:
With Node.js, we build applications that are highly scalable and performant, capable of handling large amounts of traffic and data. This ensures that your applications can grow alongside your business and provide a smooth user experience, even under heavy loads.
Partner with us for comprehensive Node.js development services that cater to your specific business requirements. Contact us today to discuss your project and let our expertise transform your ideas into reality.
Talk to us about your needs and we'll give you the best price.
Don't Hesitate To Contact Us If You Have Any Question:
Our customer service is the foundation of our success. By offering you our full attention, we'll be sure to be attentive and assist you so that we can gain your opinion as well as recommending best practices.